Saturday, January 17, 2009
Friday, January 9, 2009
I was tagged by Tiffany at Lattes and Life for this blog challenge. Here are the rules:


1.Go to your documents
2. Go to your 6th file.
3.Go to your 6th picture.
4. Blog about it.
5. Tag 6 friends to do the same.
So, here is my picture:
Which was convenient because I took this picture to blog this recipe anyway.
White Trash Cheese Danish
I am usually a fan of making everything from scratch, and somehow the idea of a tube of dinner rolls used as pastry seems trashy to me. However, this is a really, really yummy trashy, so whatever.
The must haves:
2 (10 ounce) cans refrigerated place and bake round crescent rolls
2 (8 ounce) packages cream cheese, diced
3/4 cup white sugar
1 tablespoon flour
1 1/2 teaspoons lemon juice
1 teaspoon vanilla extract
2 teaspoons sour cream
The choose it or lose its:
Jams of any favor, we tried raspberry and blueberry
1 cup confectioners' sugar
1 tablespoon milk
1 tablespoon butter, softened
DIRECTIONS
1. Preheat oven to 350 degrees F (175 degrees C). Line two baking sheets with parchment paper
2. Separate the rolls into 8 individual rolls. Using your thumb, flatten the center of the roll, making a large indentation for the filling. Place each roll about 4 inches apart on parchment lined baking sheet.
3. In a large bowl, mix together cream cheese, white sugar, flour, lemon juice, vanilla extract and sour cream. If using the jams, spread a thin layer of jam in the middle of each roll. Spread cream cheese filling on top of rolls. Put a small dollop of jam on top of the filling so you can identify them when they are done baking.
4. Bake in preheated oven for 15 to 20 minutes. Keep an eye on these and don't let the bottoms get too dark.
5. In a small bowl, stir together confectioners' sugar, milk and butter. After Danish has cooled, drizzle with icing. Or, you can skip the icing and just sprinkle them with confectioners' sugar, which is what I chose to do.
*The filling makes a lot, you could probably make 2 or 3 dozen Danish with the filling, so you may want to buy more crescent rolls. Great for brunches, or lazy weekend breakfasts and a crossword puzzle.
Here's who I'm tagging:
1. Susie at
Knitting Knoobie
2. Sharon at
As Seen on the Bathroom Wall
3. Christina at
Hippie Liberal Mom Chronicle

4. Kerri at
Desperately Seeking Sanity
5. Katie at
The Good Life
6. Colette at
Jamerican Spice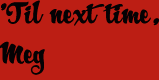 Saturday, January 3, 2009
Thursday, January 1, 2009