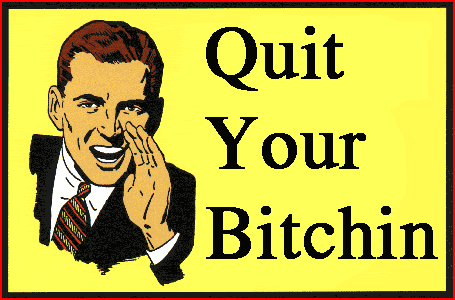 I don't know about you, but I have always thought that the universe gives you back what you put out. If you are the kind of person who sees the positive in life and doesn't complain too much about the little things, good things come your way. On the other hand, if you are the kind of person who feels like every sniffly nose, hectic day and poopy diaper is something to gnash your teeth and shake your fist at the heavens about, well, a lot more snot and shit will be coming your way.

I am a glass half-full kind of person, despite my sometimes prickly personality. I really do feel like things work themselves out in the end. I also keep a lot of my life's little annoyances to myself, because we all have them and I don't see the point of airing them to all and sundry, knowing full well they are going through the same things as me. Sometimes life is about sucking it up.

Recently my son lost the new Nintendo DS that "Santa" brought him for Christmas. Or, more accurately, my husband lost my son's Nintendo DS. At first I was annoyed that a $129 and $29 game were lost , but that passed in a second when I remembered that in the last year we had found two iPods whose owners could not be located and that my husband and son have since put to their personal use. So, their loss was our gain, and our loss someone else's. It's the balance of the universe.

I have been thinking more and more about this recently as a member of Facebook and formerly MySpace. Anyone who frequents these social "networking" sites knows that often times they are more of a social bitchfest. I am getting really sick and tired of reading about every runny nose, minor disappointment, and less-than-perfect spouse in passive-aggressive status updates.

It is at the point that for the sake of my good mood and positive outlook I want to block status updates from ever being posted on my page. It's enough to make you depressed to read about every small misery day in and day out from hundreds of people. It seems that the posts that are fun, lighthearted and genuinely happy are few and far between. It's not like you get a choice about reading these posts either, because they just randomly show up on your page. It's not like a personal blog, which is like a diary, in my opinion, and something that someone has to make the choice to find and read.

In an effort to balance the universe I am making it my goal to only post updates that are positive and happy, unless of course something major happens. Otherwise, life is too short to let the mundane crud of life get you down.

If all else fails, I will start singing Annie, because noting should make you quit your bitchin' faster than a an orphan who can still find the silver lining in every cloud. Who's with me?